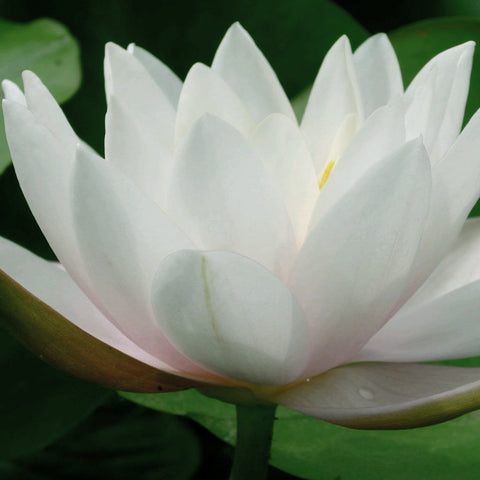 Marliac Carnea Water Lily
---
Marliac Carnea Waterlily is a prolific blooming, hardy, medium size waterlily. Marliac Carnea is a vintage hybrid that was introduced in 1879 by Latour Marliac . Mature plants have 4"-5" flowers and 5"-6" green, lily pads. An elegant hardy water lily that will bloom profusely all season long. This outstanding water lily is suited to any size pond, especially  medium to large ponds. It will even bloom in partially shaded ponds! It needs plenty of space to grow, so makes an excellent choice for a lake or large, deep, wildlife pond. The faint blush pink of the flowers look almost white on first glance. The faint pink flowers are 4-5 inches wide.

SIZE: Medium (3' to 6' Spread)
LIGHT REQUIREMENTS: Full Sun - Part Shade
WATER DEPTH: 12" TO 24" below the waterline. Water's Surface to top of Mud
USDA HARDINESS ZONES: 4-11

PLANTING CONTAINER AND RECOMMENDATIONS: We recommend a Medium  or Large Planting Bag. Plant in heavy soil and fertilize every three to four weeks for best growth and flowers.


---
More from this collection