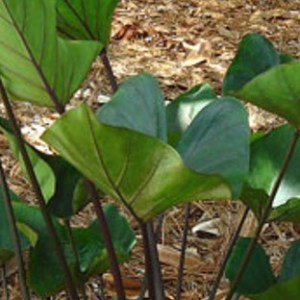 Bikini Tini Taro | Colocasia esculenta
---
'Bikini Tini' Taro is a unique taro. Cupped leaves hold themselves very upright in an inverted cup like pose. The leaves will fill up with water during a rain & then tip over and pour it out. When planted in the sun the leaves will illuminate the leaf tissue around the dark purple veins.
It is a tetraploid, which means it is strong-stemmed and thick-leaved. 
Will do best in moist soil and warm summer nights for best growth. Will also transition to growing in dry soil. Fertilize monthly. Bring inside and treat as a normal house plant with only moist soil in south facing window for winter in cold zones. Can overwinter in a pond zones 7-10. Full sun to Part Sun. Can grow 6 feet +. 
NOT AVAILABLE TO SHIP TO ARIZONA OR CALIFORNIA
Taro "Bikini Tini" (Colocasia Esculenta)
Light Requirements:
Filtered sun, Full sun, Partial sun
Height: 5' to 7' - Spread: 12" to 24" Wide
Water Depth: Moist soil
Hardiness Zone: 7-10
---
More from this collection