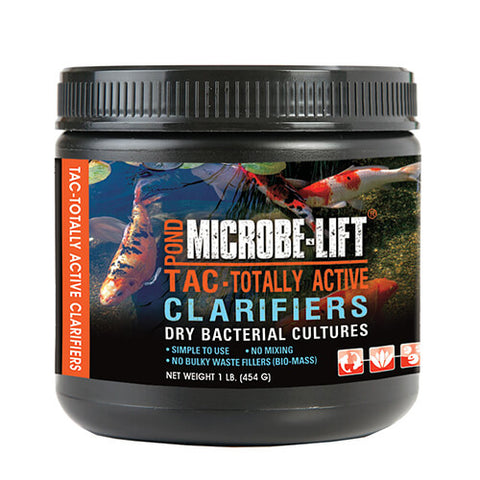 Microbe-Lift Totally Active Clarifier (TAC) - 16 oz.
---
A dry bacteria that is used to improve water quality and clarity while buffering pH. TAC contains sea salt to help control pathogens and to help induce a protective slime coating on fish. Dry Bacteria Cultures are spore bacteria instead of live bacteria and will help rid your pond of organic material, dissolve sludge and break down dead algae. 

Safe for all pond life, pets, humans and the environment. Works

 

naturally

 

to help eliminate organic waste from your pond. 
Microbe-Lift TAC

 

has powdered activated carbon which helps to absorb small amounts of toxic materials like pesticides that might find their way into your pond.
Helps to keep your pond clean and clear.
Microbe-Lift TAC Basic Application Rates
Pond Size (gallons)
1st Four Weeks
Maintenance (twice per month)
80-250
.5 oz (1 tbsp.)
.5 oz (1 tbsp.)
250 +
1 oz (2 tbsp.) per 250 gallons
1 oz. per 250 gallons
---
More from this collection