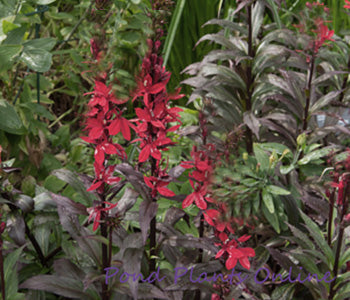 'Black Truffle' Dark Red Cardinal Flower | Lobelia cardinalis 'Black Truffle'
---
This cardinal flower species has deep, chocolatey-purple foliage with bold red flowers. This cardinal flower cultivar is superior to other dark-foliaged Lobelias on the market. 'Black Truffle' foliage holds this deep color throughout the growing season. A hummingbird and butterfly magnet all summer, but deer tend to leave it alone. Grows well in very shallow water or moist soil. Summer flowering in full sun to part shade. A stand out in the bog area of any water garden.
Cardinal Flower Lobelia cardinalis 'Black Truffle' 
Hardiness Zone: 5-9
Light Requirements: Full sun to part shade
Height: 2'-3' - Spread: 10"-14"
Water Depth: Moist soil 
Advantages: Attracts Hummingbirds, Butterflies - Deer, Rabbit Resistant
CALIFORNIA AND ARIZONA CUSTOMERS NOTE: OUR MARGINAL BOG PLANTS ARE NOT AVAILABLE TO SHIP TO CA AND AZ DUE TO STATE AGRICULTURAL LAWS NOT PERMITTING SHIPPING POTTED PLANTS WITH SOIL INTO THE STATE.
---
More from this collection